Why do you require registration at tranquil.gg?
We require registration here at tranquil.gg because if you allow others (e.g. Discord) to control everything and then some day they shut down or we were to loose access to our account we would loose everything, keeping everything here gives us the control of the data as well as more control of our uptime.
What are the specs of your servers or How much does it cost to run tranquil.gg
I actually get asked this question more than you would think, so I made a post about it
here
.
How do I join Tranquil Minecraft servers?
1) If you receive this message you may need to do some additional account setup.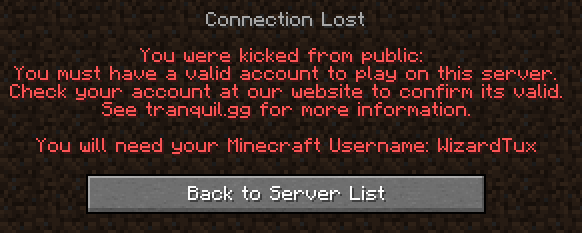 2) If you haven't already you'll need to create an account here
(and verify your email address)
.
3) Once you've validated your email and gotten logged in you'll need to go here.

4) Once your at this page all you need to do is enter your username as indicated in step #1, if you mis-type this username you will need to create a support request here as that will need to be handled on the backend.
5) If your Minecraft account ever changes you are able to update your username every 5 days.
6) All Minecraft Server information is listed
here
.
How do I join Tranquil Steam servers?
1) Navigate to
https://steamid.io/
and be sure to input the correct Steam username.
2) Copy the steamID64
3) Click on Server Information > Steam
4) Paste in your steamID64 and click save.